MOORESVILLE, N.C. – Multi-time USAC champion Chris Windom will make his NASCAR Cup Series debut during the upcoming Food City Dirt Race at Bristol Motor Speedway on March 28.
Windom will drive the No. 15 Chevrolet Camaro fielded by Rick Ware Racing with sponsorship from NOS Energy Drink during his NASCAR Cup Series debut. The Food City Dirt Race will be the first NASCAR Cup Series event held on a dirt surface since 1970.
Last year the Illinois native became the seventh driver to win the USAC Triple Crown by winning a championship each of USAC's three national divisions – midget, sprint car and Silver Crown.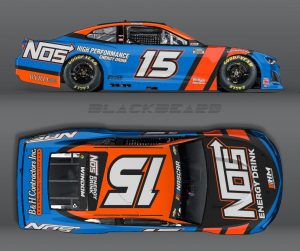 "I am excited to have Chris make his debut in the NASCAR Cup Series with Rick Ware Racing in the inaugural dirt race at Bristol Motor Speedway," said team owner Rick Ware. "Chris is an established dirt racer, whose achievements surpass many. I'm looking forward to seeing him race, and hopefully bring home a good finish."
"We are thrilled to be part of this new opportunity with Chris Windom and Rick Ware Racing," says NOS Energy Marketing Director Lauren Albano. "Coming off a 2020 USAC championship season, it's clear Chris is a wheelman and ready for this next challenge. Bristol Motor Speedway is such an iconic NASCAR track and will be rather special to see a NOS Energy car hit the track with one of our original dirt track drivers."
While extremely successful in USAC, Windom has dabbled in other forms of auto racing in recent years. He's made five NASCAR Camping World Truck Series starts and seven ARCA Menards Series starts. He's also competed in the Indy Lights division during the Freedom 100 at Indianapolis Motor Speedway.
"I'm very excited for this unique opportunity with RWR," Windom said. "Not only to race in the NASCAR Cup series, but to be a part of the first time they race Bristol on dirt is really cool. Hopefully my previous dirt experience will give me a head start out of the gate. I have to thank Lauren Albano with NOS Energy Drink, Brodie Hayward, and David Byrd for helping make this possible for me."
Comments